Common Patch
- April Fools day event has ended.
- Spring event has ended.
- Corrected an error where the Crescent Elbow status icon did not show it's duration.
Main Servers
- Gold coin exchange NPC is removed. Existing gold coins are also removed.
- Players can no longer delete a character while he is currently in a guild.
- Added 20% bonus experience and drops from March 27th to May 4th in compensation for connection issues on March 20th.
Sakray Test Server
- In order to ensure smooth testing of 3rd job skill balancing, test advancement NPCs are added.
- Replay system is updated to allow skipping. You can use this to rewind only, and can be used in any file over 5 minutes in length.
- A web browser window can be opened from within the game client. Just click the 'Web Browser' icon in the bottom of the basic information window.
- Mora village new enchantable items are added. New items for Rune Knight, Guillotine Cross, and Ranger are added, and Arch Bishop and Warlocks with existing Mora equipment can now upgrade them to new versions.
- Corrected an error where all levels of poisoning weapon level 1 ~ 4 used level 5 regardless of skill level cast.
- Corrected an issue where homunculus skill points could be reset.
- Cursed circle will now fail in siege if a Guardian Stone or Emperium are within it's area of effect.
- Corrected an issue where Jack Frost and Frost Misty would affect monsters on the other side of a blocking cell.
- Corrected an issue with 3rd job max HP.
- 3rd Job skill balancing is updated with the following fixes.
* Fixed an issue with the heal quantity of the Arch Bishop skill Coluceo Heal.
* Fixed it so that a Shadow Chaser could use their own dimension door when not in a party.
Credits for translation: Doddler
New equips pic's and information...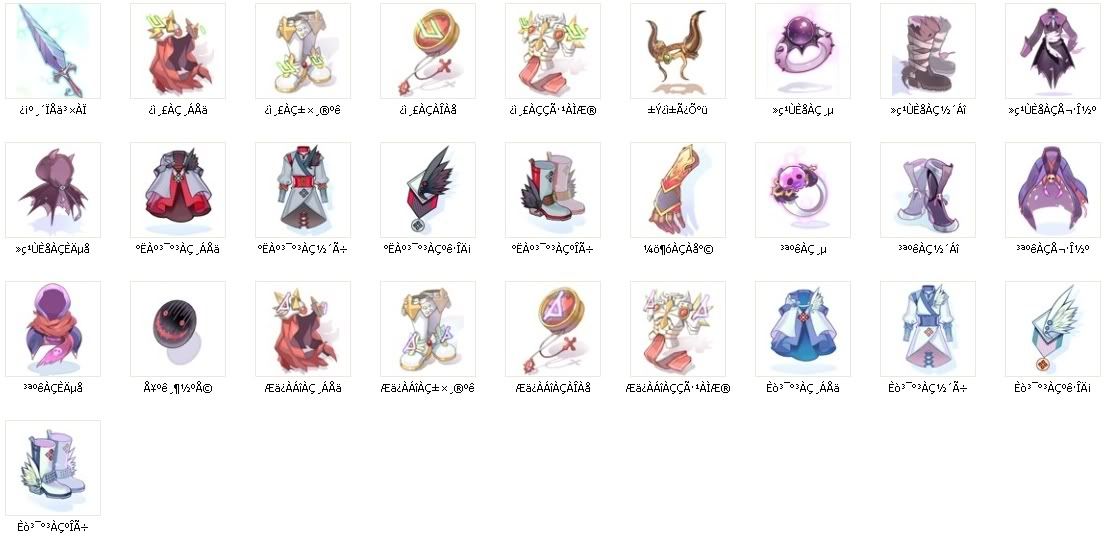 RK:
Urj set:
QUOTE
2475#Urj Greaves# [1]
Greaves created using an Urj rune.
----------------------
MaxSP + 40.
Each refine above +8 increases your max HP by a %.
----------------------
Type: Boots
Def: 32
Weight: 90
Req Lv: 100
Req Job: Runeknight

2574#Urj Manteau#
A manteau forged with an Urj Runestone.
----------------------
MaxHP + 2%.
Neutral element resistance + 10%.
----------------------
Type: Garment
Def: 20
Weight: 60
Req Lv: 100
Req Job: Rune Knight

2883#Urj Seal# [1]
A seal created using an Urj rune.
----------------------
MaxHP + 2%.
Reduces SP cost of Clashing Spiral by 5.
----------------------
Type: Accessory
Def: 4
Weight: 20
Req Lv: 100
Req Job: Rune Knight

15036#Urj Plate#
Plate armor crafted using an Urj Rune.
----------------------
Mdef +10
Each refine increases your MaxHP by a %.
----------------------
When equipped in combination with the Urj Manteau, Greaves, and Seal:
MaxHP + 14%.
Neutral element resist + 10%.
Ghost and Demihuman resist + 5%.
Hundred Spear attack power + 50%.
When dealing physical damage there's a chance to autocast Guard Lv 1 (Requires a shield equipped).
Increases SP cost of skills by 10%.
----------------------
Type: Armor
Def: 110
Weight: 300
Req Lv: 100
Req Job: Rune Knight
Pertz set:
QUOTE
2476#Pertz Greaves# [1]
Greaves created using a Pertz rune.
----------------------
MaxSP + 40.
Each refine above +8 increase your AGI by 1.
----------------------
Type: Boots
Def: 32
Weight: 90
Req Lv: 100
Req Job: Runeknight

2575#Pertz Manteau#
A manteau created with a Pertz Runestone.
----------------------
FLEE + 10, CRIT + 10.
----------------------
Type: Garment
Def: 16
Weight: 60
Req Lv: 100
Req Job: Runeknight

2884#Pertz Seal# [1]
A seal created using a Pertz Rune.
----------------------
ATK + 20.
Max SP + 20.
Lowers the SP cost of Two Hand Quicken by 15.
----------------------
Type: Accessory
Def: 3
Weight: 20
Req Lv: 100
Req Job: Rune Knight

15037#Pertz Plate#
Plate armor crafted using a Pertz Rune.
----------------------
Mdef +10
Attack + 20, Flee + 17.
----------------------
When equipped in combination with the Pertz Manteau, Greaves, and Seal:
Attack + 10%.
Increases damage of Sonic Wave and Wind Cutter by 100%.
When doing phsyical damage, there is a chance to autocast Stormblast.
Casting Two Hand Quicken gives you ASPD + 2 for 7 seconds.
----------------------
Type: Armor
Def: 110
Weight: 300
Req Lv: 100
Req Job: Rune Knight
GX:
Sabath set:
Nab set:
Ranger:
White Wing set:
Black Wing set:
AB:
QUOTE
16018#Judgement Mace II# [1]
----------------------
STR + 2, INT + 2, MATK + 180.
When dealing physical or magical damage, there's a chance to gain a bonus 40% damage to demon monsters for 7 seconds.
----------------------
When equipped in combination with the Judgement Robe, Shoes, and Shawl:
Increases physical and magical damage to undead property monsters by 30%.
Increases Adoramus damage by 200%, and increases Adoramus SP cost by 30.
Greatly decreases the variable casting time of offensive magic abilities.
----------------------
Type: Mace
Atk: 170
Property: Neutral
Weight: 120
Wep Lv: 3
Req Lv: 130
Req Job: Arch Bishop

1660#Protection Staff II# [1]
----------------------
MATK + 180, INT + 4.
Added new effect, see attached pic.
----------------------
When equipped in combination with the Protection Robe, Shoes, and Shawl:
Increases heal effectiveness by 45%.
Increases SP cost of heal by 50.
When receiving short ranged physical damage there's a chance to autocast Silentium Lv 1.
Reduces the skill delay of Clearance, Lauda Ramus, and Lauda Agnus by 3 seconds.
----------------------
Type: Staff
Atk: 30
Property: Holy
Weight: 50
Wep Lv: 3
Req Lv: 130
Req Job: Arch Bishop
Nothing Changed for WL:
QUOTE
2011#Golden Lord Staff II# [1]
----------------------
INT + 5, MATK + 270.
Increases Jupitel Thunder damage by 30%.
----------------------
When equipped in combination with the Golden Lord Robe, Shoes, and Orb:
Increases all wind element damage of the user by 60%.
Decreases all earth element damage of the user by 60%.
Lowers earth element resistance by 50%.
----------------------
Type: Two-Handed Staff
Atk: 30
Property: Wind
Weight: 90
Wep Lv: 4
Req Lv: 130
Req Job: Warlock

2012#Aqua Staff II# [1]
----------------------
INT + 5, MATK + 270.
Increases Cold Bolt and Frost Diver damage by 30%.
----------------------
When equipped in combination with the Aqua Robe, Shoes, and Orb:
Increases all water element damage of the user by 60%.
Decreases all wind element damage of the user by 60%.
Lowers wind element resistance by 50%.
----------------------
Type: Two-Handed Staff
Atk: 30
Property: Water
Weight: 90
Wep Lv: 4
Req Lv: 130
Req Job: Warlock

2013#Crimson Staff II# [1]
----------------------
INT + 5, MATK + 270.
Increases Fire Bolt and Fire Ball damage by 30%.
----------------------
When equipped in combination with the Crimson Robe, Shoes, and Orb:
Increases all fire element damage of the user by 60%.
Decreases all water element damage of the user by 60%.
Lowers water resistance by 50%.
----------------------
Type: Two-Handed Staff
Atk: 30
Property: Fire
Weight: 90
Wep Lv: 4
Req Lv: 130
Req Job: Warlock

2014#Forest Staff II# [1]
----------------------
INT + 5, MATK + 270.
Increases Earth Spike and Heaven's Drive damage by 30%.
----------------------
When equipped in combination with the Forest Robe, Shoes, and Orb:
Increases all earth element damage of the user by 60%.
Decreases all fire element damage of the user by 60%.
Lowers fire element resistance by 50%.
----------------------
Type: Two-Handed Staff
Atk: 30
Property: Earth
Weight: 90
Wep Lv: 4
Req Lv: 130
Req Job: Warlock